CAMBODIA: "What Cambodians need most urgently in the kind of world they live"
FOR PUBLICATION
AHRC-ETC-024-2010
September 15, 2010
An article by Dr. Gaffar Peang-Meth published by the Asian Human Rights Commission
CAMBODIA: "What Cambodians need most urgently in the kind of world they live"
Dr. Gaffar Peang-Meth

September 15, 2010

The East-West Cold War ended with the collapse of the Soviet Union on Dec. 25, 1991: Soviet President Mikhail Gorbachev resigned from his post, which was abolished, and the red Soviet flag over the Kremlin came down for the last time. Foreign policy expert Francis Fukuyama, a proponent of liberal democracy, called it "The triumph of the West, of the Western idea," and "The end of history."

Two months earlier, the international community and the four warring Cambodian factions adopted the Oct. 23, 1991 Final Act of the Paris Peace Accords, to "restore peace" to Cambodia, ravaged by "tragic conflict and continuing bloodshed." The Soviet-backed Vietnamese troops had withdrawn from Cambodia in 1989 after having installed a puppet Cambodian regime that replaced the Chinese-backed Pol Pot regime, defeated militarily in 1979.

International and Cambodian signatories declared to "commit themselves to promote and encourage respect for and observance of human rights and fundamental freedoms in Cambodia..."

Today, almost 19 years after the Cold War ended, the world's nation-states -- great powers, middle powers, small powers -- continue their competition for power and influence. Robert Kagan, of the Carnegie Endowment for International Peace, wrote a book on this world, titled, "The Return of History and the End of Dreams."

Next month marks the 19th anniversary of the Paris Peace Accords on Cambodia. The shooting war had ended; one lone Khmer Rouge cadre, Kaing Guek Eav, alias Duch, head of the notorious S-21 prison, among the Khmer Rouge directly and indirectly involved in the death of more than two million people in 1975-1979, has been convicted of his crimes. The rest walk free; the stipulations of the Accords have not been implemented.

French critic and novelist Alphonse Karr said, "Plus ca change, plus c'est la meme chose" -- The more things change, the more they are the same.

In Kagan's book, Robert Cooper of the Council on Foreign Relations of the European Union, was quoted as saying, the "struggle for power and prestige goes on . . . Power is at the service of ideas, but the key ideas are also ideas about power: democracy and autocracy."

"Undermining Democracy: 21st Century Authoritarians"

In a June 2009 posting, Foreign Policy Online's "Authoritarianism's New Wave," by Freedom House executive director Jennifer Windsor, Radio Free Europe/Radio Liberty president Jeffrey Gedmin, and Radio Free Asia president Libby Liu, warned that today's world system based on the rule of law, human rights, and open expression, is facing a "most serious challenge" from authoritarian regimes in "updated, sophisticated, and lavishly funded ways."

Windsor, Gedmin, and Liu's 94-page study of the strategies and methods used by China, Iran, Pakistan, Russia and Venezuela to "impede human rights and democratic development" in their countries and abroad, titled, "Undermining Democracy: 21stCentury Authoritarians," charged that Western "policymakers do not appear to appreciate the dangers these 21stcentury authoritarian models pose to democracy and rule of law around the world."

The 21stcentury authoritarians manipulate the "legal system, media control, and outright fear" to maintain their power by "rewarding loyalists and punishing opponents without regard to due process," the study says. They redefine and distort the concept of democracy, belittle what's "Western," subvert "legitimate online discourse," enlist "loyal commentators and provocateurs"; they cripple democracy, human rights and rules-based organizations, including the United Nations; they promote strong "nationalist or extremist" views of history to implant in the younger generation "hostile attitudes" toward democracy and "suspicion" of the outside world.
To advance their worldwide interests, the 21st century authoritarians are using "soft-power methods … particularly, through billions of dollars in no-strings-attached development aid," the study reveals.

China's "win-win (shuangying) foreign relationships"

The "Undermining Democracy" study posits that China, which aspires to world power status, is practicing a "doctrine of win-win (shuangying) foreign relationships," and has encouraged countries in Latin America, Africa, Asia, and Arab world "to form mutually beneficial arrangements with China based on the principle of noninterference."

Noninterference is a core value in the Association of South-East Asian Nations' 1976 Bali Treaty of Amity and Cooperation, signed by United States Secretary of State Hillary Clinton in July 2009 on President Obama's executive authority. It marked America's "return" to Asia. China signed it long ago. With noninterference, China offers aid without conditions.

The "Undermining Democracy" study says Chinese aid to foreign countries "now outstrips that of democratic donor countries" in Southeast and Central Asian states; China is "Cambodia's largest provider of aid, most of which goes to antidemocratic security forces that are used as a political weapon by Prime Minister Hun Sen"; and each year China trains at least 1,000 Central Asian judicial and police officials, "most of whom could be classified as working in antidemocratic enterprises."

"Encourage bad governance"

In its June 4, 2009 "An (iron) fistful of help," the London Economist Online commented, it's not just in the total amount of aid autocracies give to developing countries that's significant, but that "autocracies offer an alternative to western aid," which demands "good governance," while China and others do not.

"Naturally, help from harsh regimes is rarely encumbered with pesky demands for good governance," wrote the Economist. "This makes it welcome to corrupt officials and even to those merely sick of being lectured by Westerners. Alas, it can encourage bad governance."

The "Undermining Democracy" paper also says that autocracies' "unconditional assistance -- devoid of human rights riders and financial safeguards required by democratic donors, international institutions, and private lenders -- is tilting the scales toward less accountable and more corrupt governance across a wide swath of the developing world."

"Illiberal values"

The study warned that while autocracies "are vigorously advancing their own, illiberal values," the West's "isolation or disengagement from these authoritarian regimes are not viable options." Yet, the study warns, the democracies must not fall into "authoritarians' trap" -- autocracies "prefer engagement … but only on their terms."

Because democracies are rules-based, accountable and open systems, grounded in human rights and rule of law, the study advises: "It is therefore in the democracies' interest to safeguard and promote the very qualities that set them apart from the authoritarians."

Cooper called the contemporary world, "in all its complexity and its simplicity," one in which the United States is "dominant but cannot dominate" and nation-states' competition continues. In such a world, Kagan posited that only those "who have the power and the collective will," will shape the future world order: "The question is whether the world's democracies will … rise to that challenge."

Cambodian democrats and their problems

In such a world, Cambodian democrats and rights activists face the world's longest-serving autocratic ruler, Premier Sen, a former Khmer Rouge regional commander who elbowed himself into co-prime ministership, with the help of former monarch Norodom Sihanouk's two-headed government formula – this, after Sen was defeated by Sihanouk's son, Prince Ranariddh, in the first free and fair UN-organized general elections in 1993. In 1997, Sen's coup d'etat against Ranariddh resulted in the deaths of royalist military and civilian cadres. Since that coup, Sen has presided as Cambodia's absolute ruler with full executive, legislative and judicial powers.

Facing him are fractious Cambodian democrats and rights activists.

More: Cambodians are generally worried Cambodia may disappear from world map: Sen is Hanoi's puppet – throughout history Vietnam has usurped neighboring lands, and Ho Chi Minh's grand design of a federation of former French Indochinese states of Vietnam, Cambodia, and Laos under Hanoi's leadership is documented; King Father Sihanouk, Sen's adopted father who legitimized the Pol Pot regime in the past, is currently Sen's legitimizer. Additionally the world community seems more concerned with a semblance of stability under Sen than with his violations of free expression and human rights.

Cambodians' fear is real.

"Lien bang Viet Cam Lao"

Earlier this month, a social network blog published "Lien bang Viet Cam Lao" in Vietnamese language, with the English translation, "Federal Republic of Vietcamlao" (Vietnam-Cambodia-Laos), complete with "Articles of Confederation," a national flag, a capital at Danang, and some photos.

I poohed-poohed the blog: Hanoi's desire to Vietnamize Cambodia is nothing new. Quickly, I realized Cambodians have been stirred by it. Denunciations of this fictitious "nation-state" have followed.

A reader asked what I thought of the "Lien bang Viet Cam Lao" blog. I said, maybe we spent too much time and energy worrying about whether history will repeat itself, discussing and denouncing whom we think responsible for Cambodia's decline, rather than devoting time and energy to educating and learning, and to seeking solutions.

History must not be forgotten; it helps us understand the present, and prepare for the future. Looking forward, I use time and energy to write on what would propel a people forward: Good ideas, quality thoughts, high values and principles, backed by actions, are what keep Khmers as a nation.

A people are oppressed, their lands usurped, because tyrants and usurpers rule unchecked.

Unlearning old habits, and relearning what would help move the country forward, are what Cambodians need to do most urgently today – a challenge for Khmer democrats and rights activists!


...............
The views shared in this article do not necessarily reflect those of the AHRC, and the AHRC takes no responsibility for them.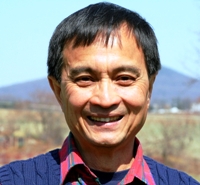 About the Author:

Dr. Gaffar Peang-Meth is retired from the University of Guam, where he taught political science for 13 years. He currently lives in the United States. He can be contacted at peangmeth@gmail.com.  




# # #

About AHRC: The Asian Human Rights Commission is a regional non-governmental organisation monitoring and lobbying human rights issues in Asia. The Hong Kong-based group was founded in 1984.